Nutrient-packed foods straight from our farm to your plate
Welcome to Farmers Creation Private Limited! We're dedicated to bringing you the freshest, most nutrient-packed foods straight from our farm to your plate. From aromatic teas to exotic spices, we offer a wide range of organic and non-organic products that not only taste delicious but also support a healthy lifestyle. We're on a mission to introduce the world to the diverse and nutritious food habits of different tribes of North East of India. Whether it's the ingredient your friend raves about or the one you've never tried before, we believe everyone deserves access to the power of superfoods and super-teas. Join us on our mission to promote healthy living, one bite at a time.
Farmers in our every day life
OUR PURPOSE IS TO IMPROVE YOUR LIFE !
When you think of farmers, what comes to mind? Maybe an image of a person in overalls, with dirt on their hands and a hat on their head. But the farmers of the North East of India are a different breed. They are the backbone of our community, working tirelessly to provide us with fresh, nutritious produce that is unlike anything else in the world. From the rolling hills of Assam to the misty forests of Meghalaya, these farmers are deeply connected to the land and the environment. They have a deep understanding of the soil, the weather patterns, and the natural cycles of the region. They take pride in their work and their heritage, and it shows in the quality of their products. So the next time you bite into a juicy piece of fruit or savor a hearty meal, take a moment to thank the farmers who made it possible. They are the unsung heroes of our everyday lives.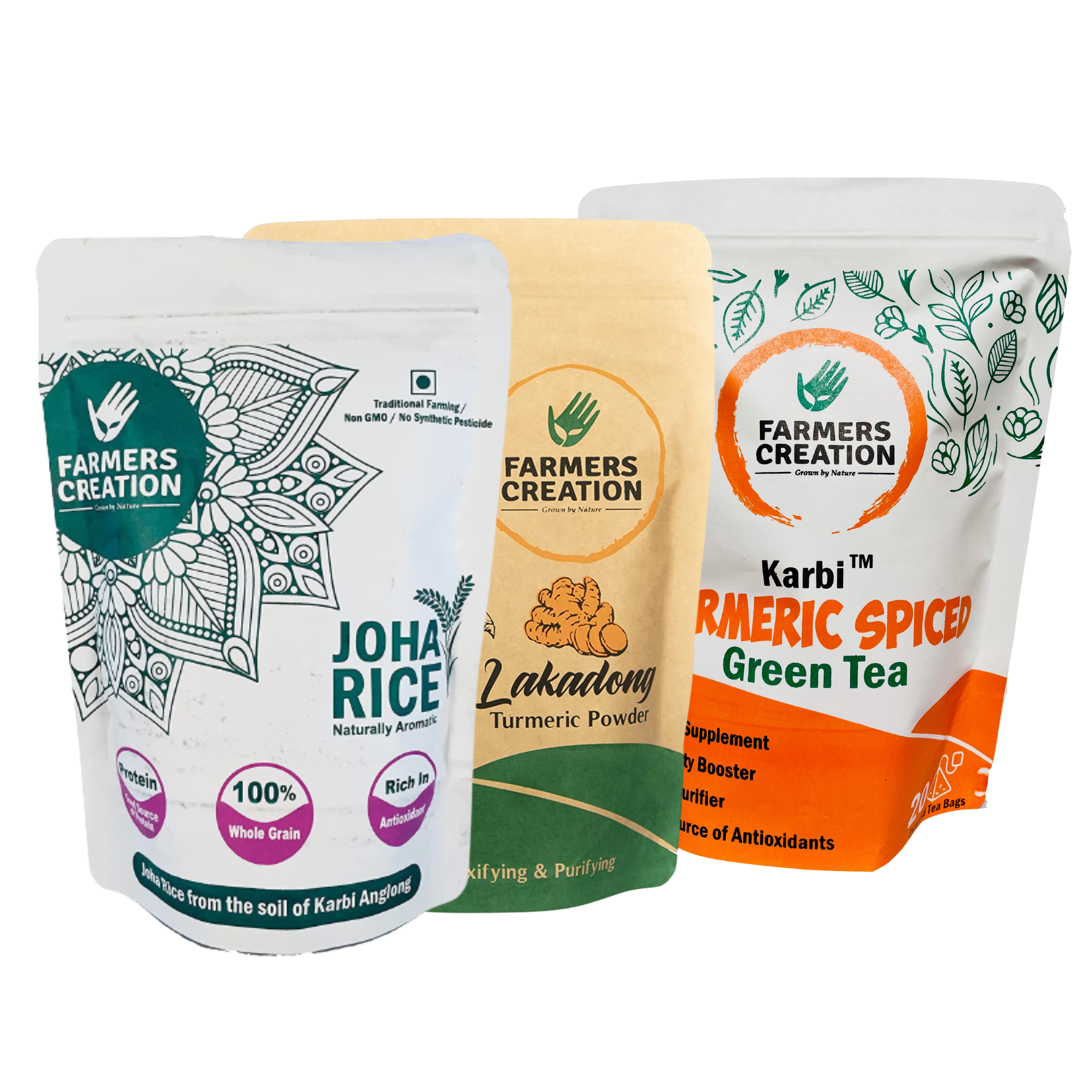 Uniquely superior and delightfully distinct product !
ONE SIP AND ONE BITE AT A TIME!
Imagine waking up to a new day, energized and excited to take on the world. You start your day with a cup of hot, flavorful Karbi Hibiscus tea from Farmers Creation, made from the finest organic ingredients straight from the heart of North East India. As you sip on your tea, you can't help but feel the care and attention that goes into every step of the production process, from the farming to the packaging. At Farmers Creation, our core competency is creating high-value, superior food products with the utmost customer focus and world-class service. We are doing business differently, putting the needs and satisfaction of our customers first in everything we do. Because at the end of the day, our goal is to add value to your life through the power of nutritious and delicious food.